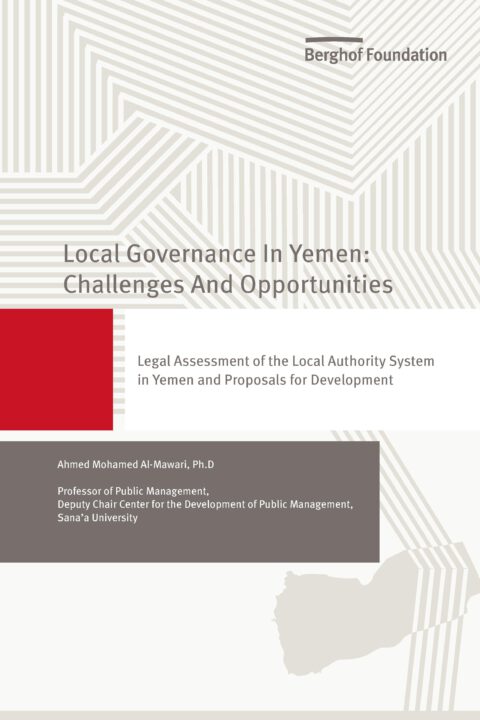 An extended description to the reality of local authority legislation in Yemen and an underline of its strengths and weaknesses
Since its unification in 1990, the Republic of Yemen has adopted democracy as its approach to political life based on pluralism, partisanship and the peaceful transfer of power. This has led to the establishment of many political parties and a number of parliamentary and presidential elections.
In 2000, the Local Authority Law No. 4 (LAL) was enacted, regulating local administration in Yemen. Amongst other bylaws determining various aspects of local authority in Yemen, it was followed by the Executive Bylaw (EB) issued by Republican Decree of Law No. 299. This transformation contributed to the expansion of community participation in local affairs.
Despite the significance of adopting a local authority system in Yemen – a large stride in the country's democratization process – this experience was marred by compounded problems and obstacles that obstructed the implementation of local authority legislation. This negatively impacted how local organs performed in various governorates and districts, thus warranting a study to identify the system's strengths and weakness, as well as steps necessary to bolster the exercise of local democracy.
In 2013 and 2014, Yemen organized a national dialogue inclusive of various political components. This resulted in the outcome document of the National Dialogue Conference (NDC), which called for radical reforms in the economic, political, social and administrative sphere, as well as the adoption of a federal system for localaffairs. However, internal armed conflict between several constituents and the external war on Yemen by the saudi-led coalition has disrupted any progress and threatens cause the state to collapse completely.
The aim of this paper is to describe the reality of local authority legislation in Yemen, underline its strengths and weaknesses, identify the main obstacles to its implementation, and present suggestions for improving it. To attain these objectives, an integrated approach was followed based on the review and analysis of existing literature and official documents, as well as one-on-one interviews with a number of public administration leaders at central and local levels.