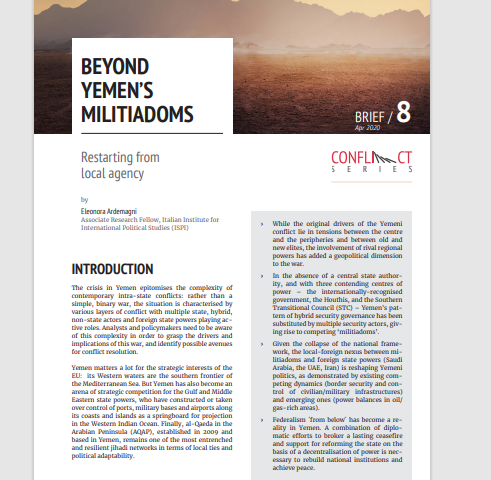 Briefing on the implications of the fracturing local security landscape in Yemen for decentralization and potential agreements to end the war.
The crisis in Yemen epitomises the complexity of contemporary intra-state conflicts: rather than a simple, binary war, the situation is characterised by various layers of conflict with multiple state, hybrid, non-state actors and foreign state powers playing active roles. Analysts and policymakers need to be aware of this complexity in order to grasp the drivers and implications of this war, and identify possible avenues for conflict resolution.
Yemen matters a lot for the strategic interests of the EU: its Western waters are the southern frontier of the Mediterranean Sea. But Yemen has also become an arena of strategic competition for the Gulf and Middle Eastern state powers, who have constructed or taken over control of ports, military bases and airports along its coasts and islands as a springboard for projection in the Western Indian Ocean. Finally, al-Qaeda in the Arabian Peninsula (AQAP), established in 2009 and based in Yemen, remains one of the most entrenched and resilient jihadi networks in terms of local ties and political adaptability.
This Conflict Series Brief analyses the intertwined layers of conflict in Yemen and their implications for war resolution efforts. The local-foreign nexus between Yemini and external actors needs to be disentangled to separate domestic drivers and the regional and/or sectarian dimensions of the conflict.  Competing 'militiadoms' are on the rise, thus transforming the traditional Yemeni pattern of hybrid security governance into a multiple security governance scenario. The Brief examines the Yemeni crisis in all its complexity, focusing on existing and emerging dynamics. Interference by foreign state powers is both a cause and a consequence of the protracted conflict, while the potential for peace must be sought at local level. This approach will help to identify strategies for mitigating and possibly resolving the crisis.
---
Other resources you may be interested in: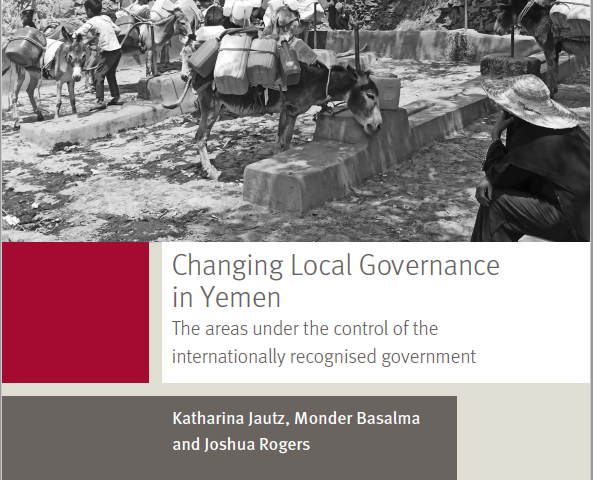 Following a brief overview of local governance in Yemen since unification in 1990 for background, this report analyses the current situation in areas under the control of the internationally recognized government, focusing on changes in decision-making, changes in revenues, and changes in services. It closes with a consideration of the implications of these changes for […]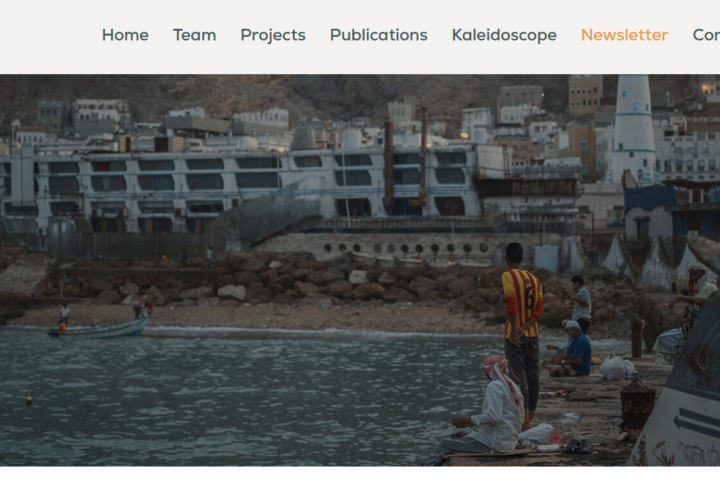 This article argues that practices of corruption and nepotism of Hadhramawt's local authority which coincide with a rise of prices, lack of services and increasing poverty levels, is fueling people's distrust into the government and driving them towards Hadhrami independence.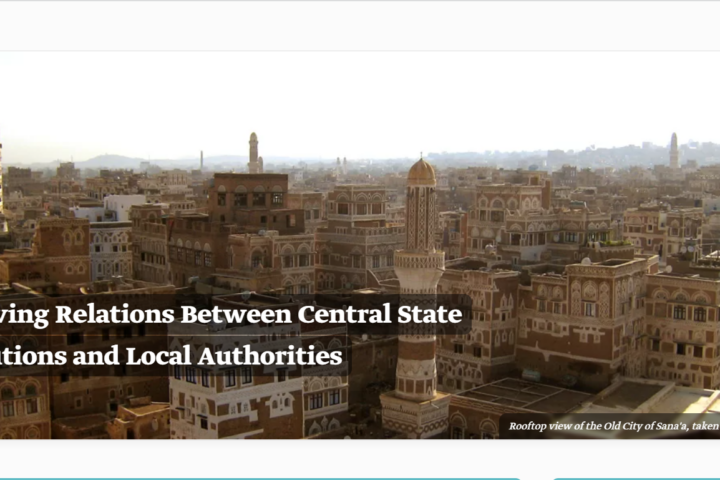 White Paper on the relationship between local authorities and central governments in Sana'a and Aden respectively, including a set of recommendations.