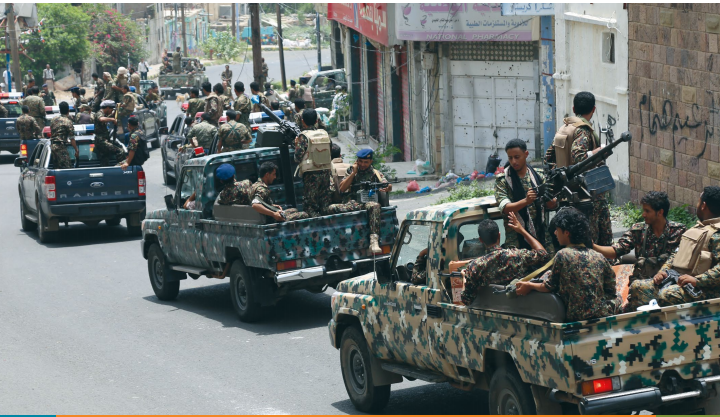 After six years of war, Yemen and its state institutions have undergone dramatic changes, having fragmented along multiple fault lines. The security sector is no exception. In the northwest, Ansar Allah took over the capital Sana'a by force in September 2014, before seizing large parts of the highlands: from the Saudi border in the north, to the Red Sea in the west, Marib in the east and al-Dhali' in the south. Ansar Allah consolidated its control over the state, systematically weakening tribal structures and using security forces to crush any space for dissent or opposition (Nevola & Carboni 2019).
Due to the escalation of hostilities southwest of Sana'a in 2015, security institutions collapsed in heavily embattled areas, particularly in Ta'iz and Aden (Transfeld & al-Sharjabi 2020; Sultan, Transfeld & Muqbil 2019; bin Othman & Transfeld 2020). The re-establishment of security institutions under the internationally recognized government (IRG) in early 2017 brought some stability; but eventually, instead of unifying the troops under the 'National Army', the localized recruitment processes have resulted in more state fragmentation. Exemplary of this is the expulsion of the IRG from Aden in August 2019, after which the Southern Transitional Council (STC) gained full control over police and para-military forces (Saleh & al-Sharjabi 2019). What many seem to neglect is that this is, de facto, a building block for what the STC wishes to achieve: an independent South.
While the Yemen Polling Center has researched popular perceptions of security institutions (Heinze & Albukari 2017; Heinze & Albukari 2018; Soudias & Transfeld 2014), as well as the specific security concerns of girls and women, to date not much research has been done on the security institutions themselves, particularly at the governorate and district levels. In fact, the literature often neglects institutions in favor of informal politics, highlighting family or tribal relationships, while leaving the extant albeit weak institutions underresearched. This report seeks to fill this gap. Given their role as central nodes of the security governance structure, this report explores governorate-level Security Committees in three governorates that have been particularly affected by violence and institutional fragmentation: Ta'iz, al-Hudayda and Aden. Next to seeking to understand the institutional set-up and functions of the Committees, questions guiding this inquiry are how the Committees have evolved in the context of state fragmentation and what, if any, capacities they have to play a potential role in local-level mediation (for instance, regarding humanitarian access) or transitional security governance arrangements.
---
Other resources you may be interested in: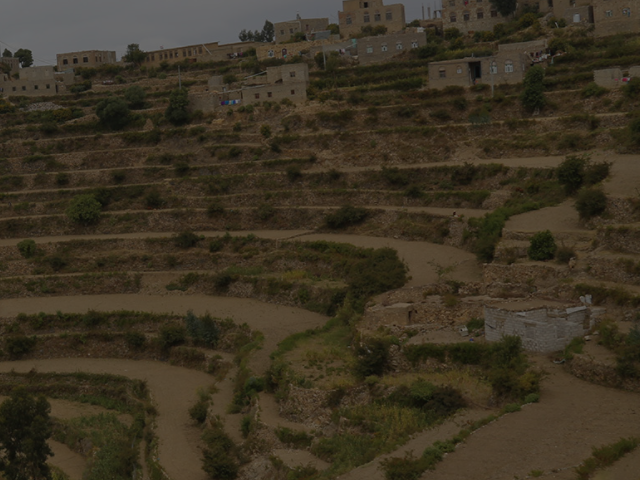 Yemen is one of the most water-scarce countries in the world,with renewable water resources currently capable of providing only 75 m3 per capita per year– well below the water scarcity threshold. And this volume is steadily dropping. The agricultural sector in Yemen is the dominant user of groundwater resources,accounting for around 90 percent of total […]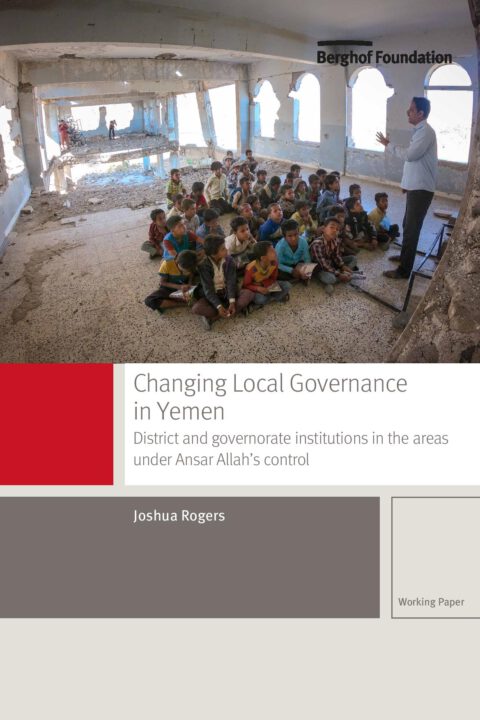 The Berghof Foundation has been working with local authorities and the central administration(s) in Yemen since 2017 to strengthen inclusive local governance, support the resolution of local conflicts, and ensure that key concerns from the local level feed into central policy-making and the peace process. This working paper contributes to these overall goals by exploring […]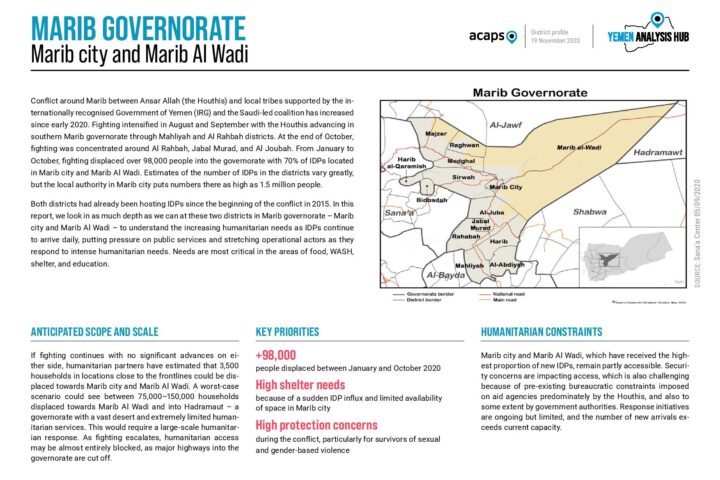 Conflict around Marib between Ansar Allah (the Houthis) and local tribes supported by the internationally recognised Government of Yemen (IRG) and the Saudi-led coalition has increased since early 2020. Fighting intensified in August and September with the Houthis advancing in southern Marib governorate through Mahliyah and Al Rahbah districts. At the end of October, fighting […]